Live Spot Gold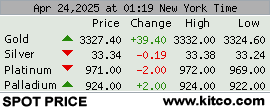 Contact Us
ProCoin, LLC
P.O. Box 7238
Capistrano Beach, CA 92624-7238
Phone: (949)429-8660
Toll Free: (866)472-8126
Fax: (360)656-7949
email: Info@ProCoin.com
Sign Up for Email Updates
Are you looking to buy, sell or trade specific pieces?
Give us your contact info, and someone will contact you shortly!
In 1918, the U.S. Post Office Department issued the first airmail stamp, picturing a Curtiss JN-4 airplane. It was a 24c bi-color stamp requiring two plates and two printing passes. Several of the sheets were printed incorrectly with the airplane upside down, or inverted. While all others were caught and destroyed, one of the errors was sold to William T. Robey at a post office in Washington, D.C., resulting in one of the most famous discoveries in U.S. stamp collecting history!
The legendary sheet of "Inverted Jennies" was then sold a week later to dealer Eugene Klein for $15,000, turning a hefty profit of $14,976 (quite a sum in those days)!
The sheet then went to Colonel E.H.R. Green for $20,000, who broke it up and sold most of it over the years, keeping select examples for himself.
This copy is known as 24c Carmine Rose & Blue, Center Inverted (C3a), encased in the original locket created by Col. Green for his wife, Mabel. Green had the Invert, which is from position 9 with a natural straight edge at the top, placed into the locket back to back with a normal 24c. The invert, which is fresh and bright, has two trivial corner creases at the bottom from being too close to the edge of the locket at some time in its past. The gum has never been hinged!
Scott never hinged value is $675,000!
Provenance: Col. Green to his wife Mabel, to a close family friend. Over the years, the Colonel had given Mabel many elaborate gifts, such as the $625,000 he gave her upon their marriage. However, the locket must have had some sentimental value because, although Green's stamps were sold upon his death in 1936, Mabel saved the locket until her own demise in 1950.
Available today at $425,000

>
1794 $1 VF25 PCGS. B-1, BB-1, R.4. The 1794 silver dollars are among the most heavily studied individual issues in the entire American numismatic series. The late Jack Collins spent decades studying and photographing individual specimens, with the goal of a provenance and history of the issue, including a complete pedigree record and photograph of every known specimen. At the time of his death, his record was nearly completed.
Early dollar specialist Martin Logies prepared his own study of the coins, largely based on the previous work that Collins had completed.
In The Flowing Hair Silver Dollars of 1794, Logies wrote an appreciation of Collins and his work:
"The author must also acknowledge the inspiration provided by the late numismatist and researcher Jack Collins, who himself spent a quarter of a century researching the 1794 dollar. While Jack's untimely passing prevented the completion and publication of his research, he nonetheless served as the pioneer in this field, and demonstrated that a study such as this one was possible and meaningful."
The knowledge available to numismatists today is such that few 1794 silver dollars remain anonymous. By that, we mean that nearly every 1794 silver dollar that appears in the marketplace today has appeared at some time in the past. We currently have a list of 132 different specimens, including this piece.
The glossy surfaces of this coin exhibit attractive olive, brown, and steel toning. The surfaces are smooth, with only a few minor marks. A small scrape of light silver appears on the obverse at 11 o'clock. The remaining nearly invisible marks on each side are ancient and blend nicely with the surrounding color. A thin scratch outside stars 4, 5, and 6 provides immediate identification of this specimen. Collins and Logies each published an extensive physical description of the coin, including the position of every single blemish. Most of the marks are consistent with the grade and hardly warrant discussion.
In 1981 the RARCOA cataloger wrote: "Choice Very Fine. An exceptional specimen with very light attractive toning over virtually immaculate surfaces that are totally devoid of nicks, scratches, or problems of any kind. Additionally, this piece has a full, complete four digit date."
In 1987 the Bowers and Merena cataloger wrote: "A very pleasing coin with smooth even wear, and although a few marks are evident, as is normal for the grade, the piece is far above average in quality. The surfaces are a glossy light silver gray. Overall the piece has an extraordinary aesthetic appeal."
In 1989 Bowers and Merena wrote: "A nice, glossy smooth specimen very faintly toned in appealing mottled hues of coppery gold and lilac gray. About two-thirds of Miss Liberty's hair details are clear, as are an equal proportion of the eagle's wing feathers. A pair of tiny rim marks are present, but these are scarcely worth mentioning."
Ex: a collector surnamed O'Neil; American Coin (Alan Van Vliet, 1974); Pasadena Coin Co. (Henry and Richard Heller, 1974); Mitch Mellowitz; Jess Peters (8/1974), lot 904; Auction '81 (RARCOA, 7/1981), lot 147; Bowers and Merena (11/1987), lot 368; John Koppell; Bowers and Merena (6/1989), lot 142.(Registry values: N10218) (NGC ID# 24WY, PCGS# 6851)
$220,000
Discover your Own Treasure in American History

The $20 Liberty Head gold coin is an American classic.
During the California Gold Rush, as our country expanded and grew, the coins were issued for circulation from 1850 through 1907. Although millions were made, many were lost in the 1930's when a presidential order required citizens to deliver their gold to the Federal Reserve for melting. Fortunately, some were saved in collections or transferred for commercial payments overseas.
Today, you can see the first example of this magnificent coin, dated 1849, at the Smithsonian Institution. Even better, you can own a piece of history. A limited number of Choice Uncirculated coins are available for immediate delivery to you. Each is graded, certified, and guaranteed for authenticity by either the Professional Coin Grading Service (PCGS) or the Numismatic Guaranty Corporation of America (NGC) as Mint State 64.
Financial experts recommend gold as a valuable component of a diversified portfolio. In recent years, average circulated, common date $20 Liberty gold coins have also been used as an alternative bullion coin and hedge against inflation.
There's nothing quite like the security of having your own private stash of gold, especially if it's made up of century old $20 gold pieces!
Order today! Call (866)472-8126 
We've added Ancient Coins
If you like Ancients, check out the inventory! We've added a few, with pictures and descriptions!
For all of my Coin Weenie friends, if you haven't seen it yet, I strongly suggest that you watch Monday's episode of Castle. There is a numismatic connection. I don't want to be the spoiler – the episode is called "Get a Clue".
Sign-Up for Email Updates!
Are you looking to buy, sell or trade specific pieces?
Give us your contact info, and someone will contact you shortly!
Contact Us!
ProCoin, LLC
P.O. Box 7238
Capistrano Beach, CA 92624-7238

Phone:


(949)429-8660


Toll Free:


(866)472-8126


Fax:


(360)656-7949


email:

Info@ProCoin.com